Welcome to a concise exploration of Starlink Statistics! Starlink™, pioneered by SpaceX, represents the pinnacle of satellite internet technology, promising unprecedented connectivity speeds and global coverage. This page is your gateway to a wealth of statistical insights into Starlink's journey, its evolving infrastructure, user base, and service efficacy.
As Starlink installers covering the UK, we get asked a range of questions every day regarding the Starlink hardware, the satellites and the innovative technology itself. Therefore, we've put together this list of our favourite facts and statistics….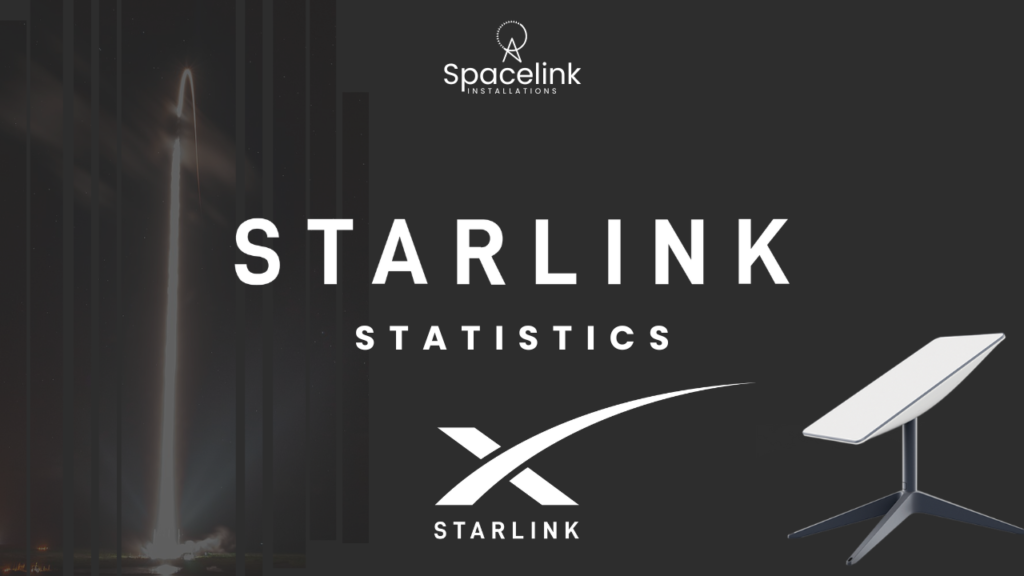 General Starlink Stats & Facts
Starlink satellites account for more than 50% of all active satellites
How many Starlink satellites have been launched?
Starlink have launched over 5,000 satellites into Earth's lower orbit since 2019.
As of September 2023, Starlink have 5157 satellites in orbit. 4776 of those are operational.
Starlink plans to launch 42,000 satellites into Earth's lower orbit but does not specify when they plan to achieve this by.
Some people have suggested that this could be achieved within the next 7 years (by 2030) based on the information available.
This would mean that:
Starlink has only launched 12% of its intended 42,000 satellites.
As of September 2023, on average Starlink deploys 46 satellites in each launch and 42 of these satellites will be operational.
4 satellites per launch fail.
This means that Starlink satellite launches have an average success rate of about 93%.
But, averages are averages….
In February 2022, Starlink lost 38 out of 49 satellites due to a geomagnetic storm.
The average Starlink satellite will conduct below three collision-avoidance manoeuvres during a 6 month period.
Starlink satellites orbit about 342 miles (550 kilometres) above Earth.
Starlink plans to refresh their mega-constellation every 5 years with newer technology.
This means that an average, operational Starlink satellite will have a lifespan of 5 years before it is replaced.
Old satellites are decommissioned and return into Earth's atmosphere where they burn up.
As of September 2023, Starlink has surpassed 2 million users (subscribers).
A 33% increase since achieving 1.5 million users in May 2023.
Starlink Ukraine Statistics
In early April 2022, SpaceX/Starlink and the U.S. Agency for International Development delivered 5,000 Starlink terminals to Ukraine.
SpaceX provided more than 3,000 of these kits at a cost to the company of around $10 million.
(source: Space.com)
Since then around 25,000 Starlink kits have been sent to Ukraine. (source: Space.com)
In conclusion, Starlink, SpaceX's ambitious satellite internet service, is making monumental strides in creating a globally connected world. With over 5,000 satellites launched, accounting for more than 50% of all active satellites, and an impressive 93% average success rate per launch, Starlink is rapidly expanding its reach, providing connectivity to over 2 million subscribers worldwide, a number that has seen significant growth in recent times. Starlink's proactive approach to updating its constellation and preventing space debris, along with its unique capability to deliver high-speed internet to remote locations where it was once inaccessible, underscores its commitment to innovation and its vision for the future of internet connectivity. Its efforts in global regions, notably the substantial support provided to Ukraine, emphasise its pivotal role in leveraging advanced technology to make positive, real-world impacts. Despite the challenges, the future is promising for Starlink as it continues to redefine the possibilities of internet accessibility and stands as a beacon of technological advancement in satellite internet services.