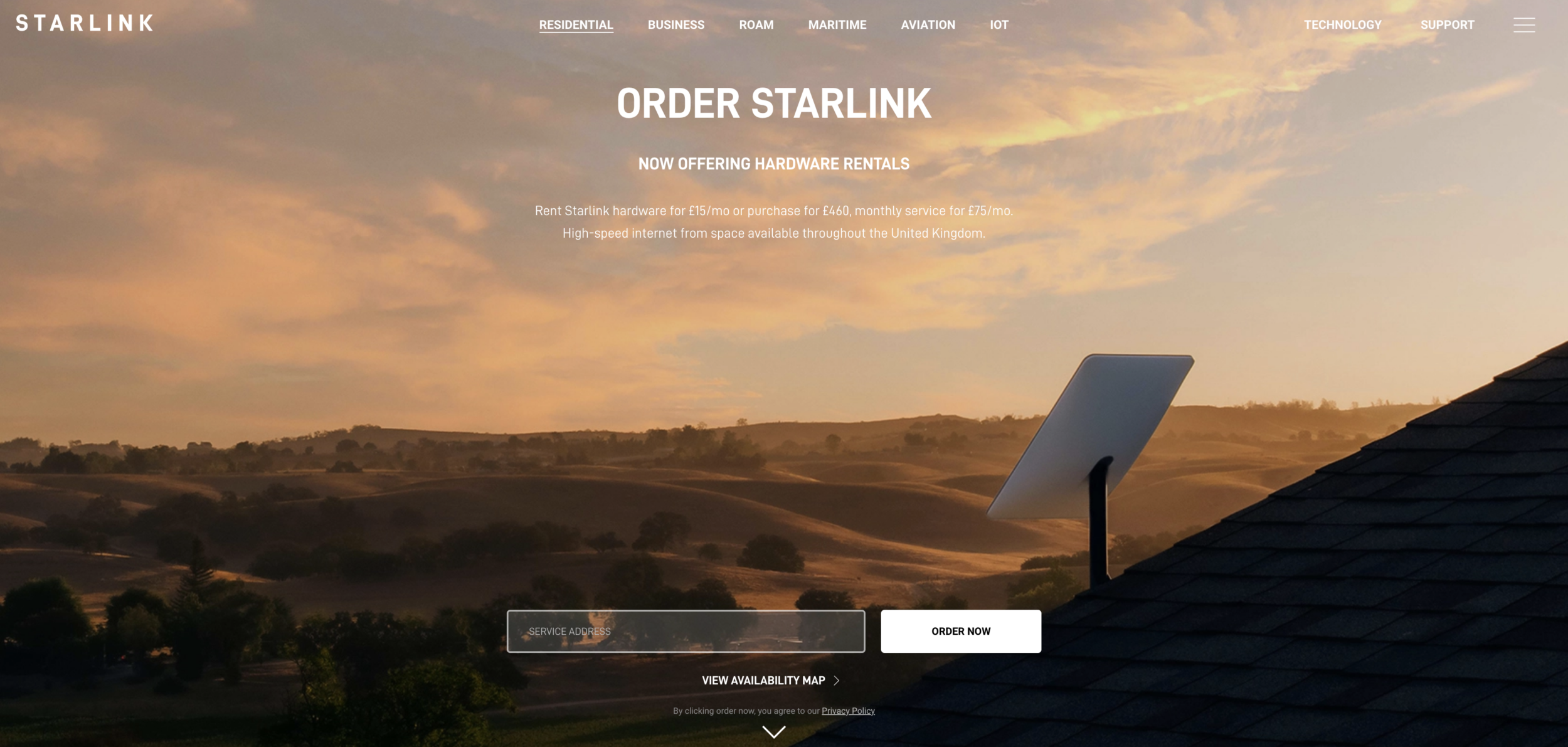 Starlink Satellite Internet is a great choice for customers in the UK who are looking for a reliable and fast way to get online. Starlink offers several different packages that range from £75 per month (for the standard residential package) all the way up to £970 per month, depending on what your needs are.
You can also choose whether to rent your Starlink Hardware or buy it.
There are two main costs with Starlink:
The Starlink Hardware has to be rented or purchased.
You pay a monthly service fee.
Starlink Residential Package in the UK
The Starlink residential hardware can be purchased for £460 (incl. VAT) or it can be rented for £15 per month.

Update: Starlink currently available on offer at £449.00
The Standard Starlink kit is the perfect solution for residential users! Whether you need reliable connection to make or receive video calls, online gaming sessions, stream your favourite shows – and pretty much anything else internet-related – it's ready in a few easy steps. All you have to do is unbox your super sleek modern router with cables and base included; then before you know it, there'll be no stopping what kind of digital adventure this bad boy will take ya on!
High-Performance Hardware Option
You can also choose to select the "high performance" Starlink Hardware kit in the residential package. However, this will set you back a whopping £2,410.
However, this hardware is ideal for the ultimate performance boost. Perfect for power users and enterprise applications, this upgrade provides you with improved weather resistance that battles through wetness; 3x faster speeds in blazing temperatures of over 35°C (95°F); 1.7x better snow melting capability so winter won't be a nuisance; plus enhanced visibility even when faced by polar climes or pesky obstructions – what more could you need?
Starlink Residential Monthly Cost
You will then need to pay £75 per month for your high-speed satellite internet service each month.
Note: If you need to connect an ethernet cable to your Starlink router for any wired connection requirements. You will need a Starlink Ethernet Adapter.
Starlink Hardware & Install
Want Starlink but not sure where to start?
All-in-one Starlink service
Starlink Business Package in the UK
Starlink Hardware Cost For Business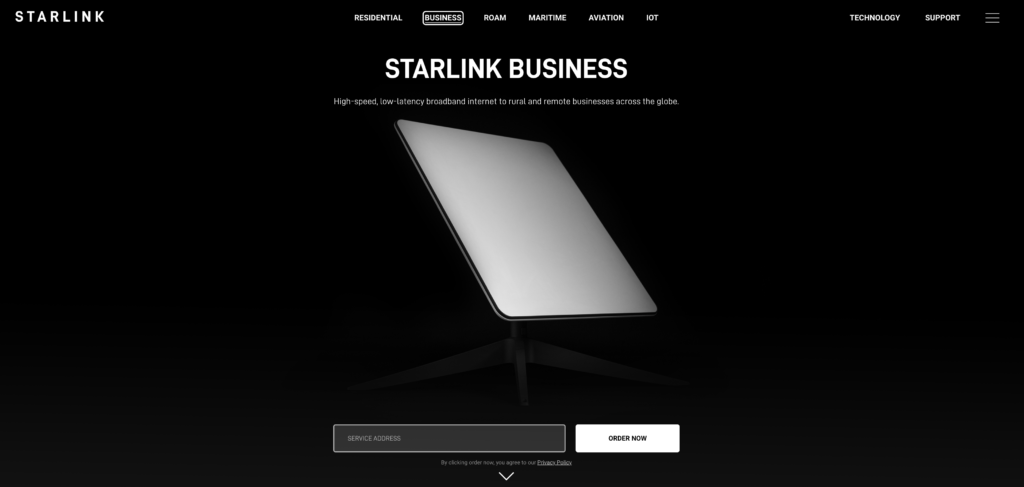 The Starlink hardware for Business costs £2,410 to purchase.
Currently, Starlink are not giving businesses the option to rent the hardware, unlike the residential package.
• Starlink Business is available across the UK with a 30-day trial and delivery in 1-2 weeks.
• Select Priority Access Data for faster speeds (typically 40-220 Mbps download, 8-25 Mbps upload) and top network priority.
• Features include a publicly routable IPv4 address, dedicated priority support, and an enterprise dashboard for remote monitoring & network management.
• Customers can add unlimited service locations with orders on the page and account portal.
Starlink Business Monthly Cost
Starlink Business gives you the option to then choose your priority service. This allows you to choose the level of priority access data you will need each month.
There are 3 options:
1TB – £150 per month
2TB – £300 per month
6TB – £900 per month
Update: There's now a new business service package starting at £96 per month.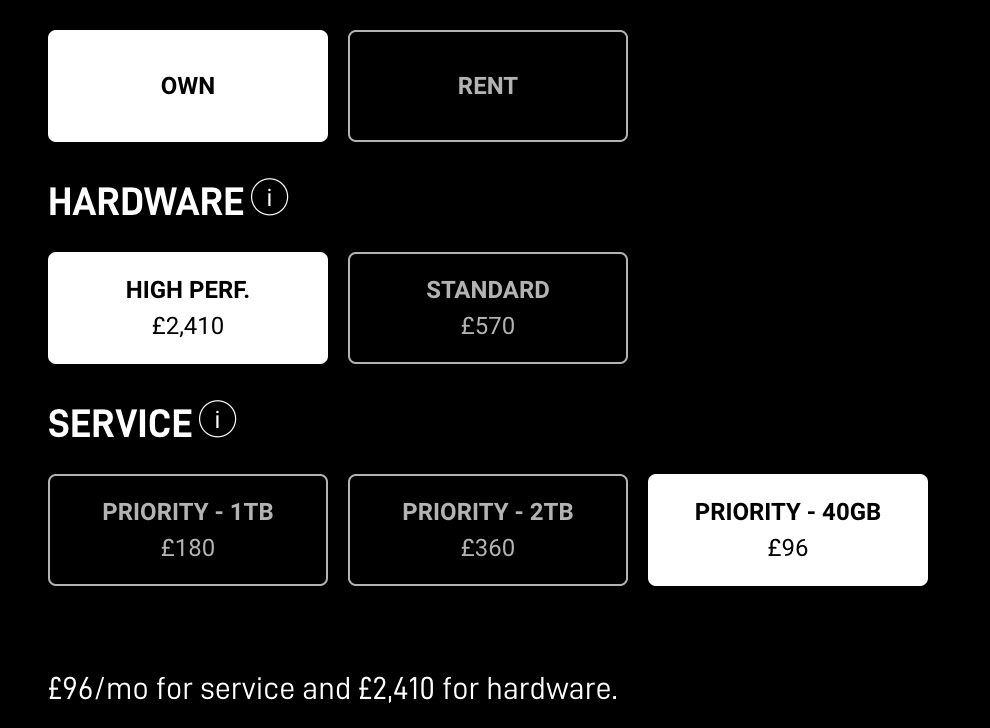 Starlink Roam Package in the UK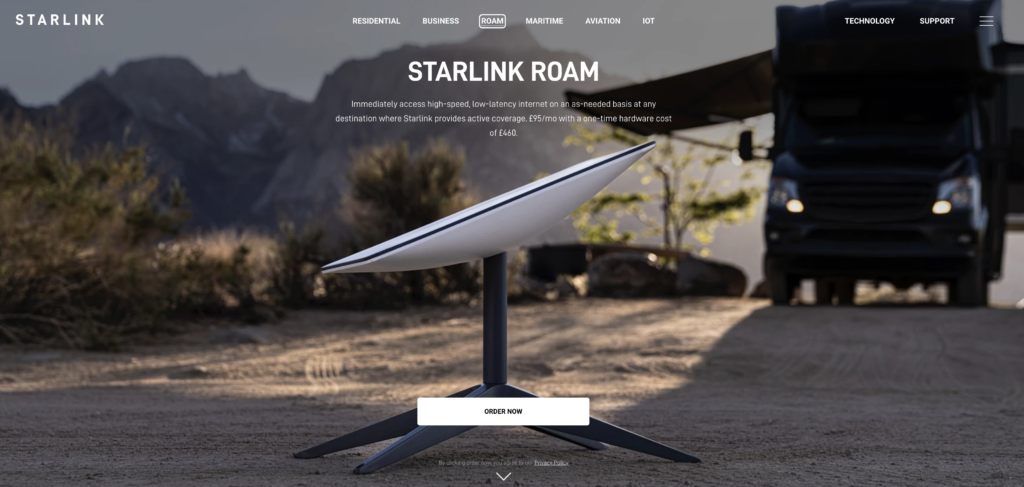 The Starlink Roam Package allows you to use the Starlink Satellite Internet service at any location. This is perfect for people who are frequently on the move or travelling. Perfect for campervan travellers & digital nomads!
It's the same cost for the residential hardware at £460 (incl VAT) but the monthly service is slightly more than the residential package at £95 per month.
With Starlink Roam, in the UK, the entry package will cover you throughout the continent of Europe. There is also an option for global coverage too for those who will be travelling a little further afield – talk to the support team at Starlink if you're looking for global roaming service.
Starlink Maritime Package in the UK
The Starlink Maritime hardware is the same cost as the Starlink Business Hardware at £2,410.
However, the monthly cost is £970 per month for the global maritime coverage, getting up to 220 Mbps download speed while at sea.
There is also the option to upgrade your priority access (like with the business package) to the 5TB Premium option, but that will set you back a very hefty £4,846 per month.
• Starlink Maritime is now available for ordering with global coverage.
• Offers speeds up to 220 Mbps download and 25 Mbps upload while at sea.
• No contracts and includes a 30-day trial period with delivery in 1-2 weeks.
• Includes Priority Access for faster speeds and top network priority. 
• Hardware includes the Flat High Performance Starlink and Wedge Mount. 
• Dedicated priority support, remote monitoring & network management dashboard, and unlimited service locations.
Starlink Aviation Package in the UK
Coming soon will also be an option for Starlink Aviation, but not much is known on the price for this package just yet. It will most likely be similar to the Starlink Maritime Package in terms of cost. Currently, you can register your interest on the Starlink Aviation page.
The cost of Starlink in the UK
Starlink does come with a slightly more expensive initial cost if you choose to purchase the hardware outright. However, you do now have the option to rent your hardware which can help make the initial outlay more manageable for most people.
Having said that, for a lot of people, the benefits of Starlink in the UK considerably outweigh the cost. The reason for this is that it is simply changing the game for people who have had historically poor internet connections or have struggled with broadband issues for some time.
It has proved invaluable to people who live in rural areas of the UK or "dead zones"; Starlink has given them a solution by enabling them to start receiving high-speed internet. But Starlink is not just for those people who've had internet problems in the past. It's now becoming a top choice for all people who are looking to get away from the usual ISPs in the UK, or are looking for an alternative way to stay connected and online.

And remember, if you need a trusted professional to install your Starlink then look no further! Get in touch today!